Fun in the Bath: Nuby Tear Free Rinse Pail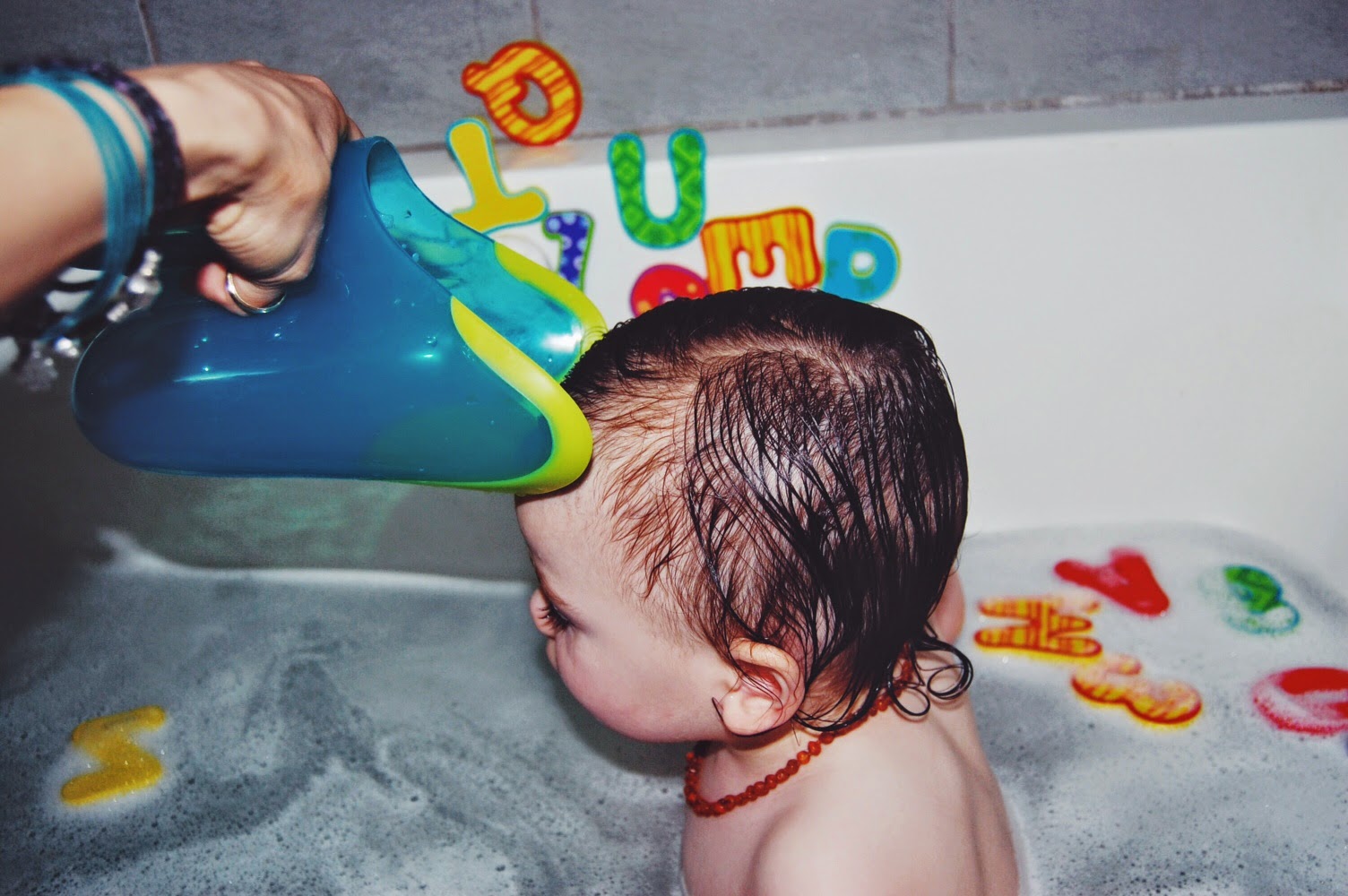 Raise your hand if your child cringes when water hits their face in the bath (mine flew up, did yours?!) My son literally bolts to a standing position with a terrified grimace, gasps as if I've dunked his head under the water, squeezes his eyes shut & hyperventilates. Yes, this happens every time! It then takes him about two whole minutes before I can convince him to sit back down in the tub (only to douse him again with said water...). Poor kid must think I am out to get him! Jeeze woman quit trying to drown me!!
Lucky for Graeme, there is a saving grace, it's called the Nuby Tear Free Rinse Pail! Whoop, Nuby does it again folks! This handy dandy bathtub assistant keeps those precious faces dry while rinsing the suds out of their hair. It's a magical tool, that I wish I had when Graeme was younger!
So what makes this pail so fantastic? The tear free comfort edge, it conforms to your child's forehead, creating a seal, allowing the water to rinse their hair & not their eyes! The Nuby Tear Free Rinse Pail has a slender base design that allows for easy filling in a shallow tub, plus a nice non-slip grip for us parents to wield.
The trick I have found is to hold those little chins up just a tad with one hand, press the filled Nuby Tear Free Rinse Pail against their forehead to create a seal, then pour! Wal-lah! Suds free & tear free... can't get much better than that!
In fact, Graeme is such a fan, he decided he wanted to play with his new pail himself. Filling & pouring water out with lots of giggles & smiles!
So let's get a little run down shall we?
Tear-free soft contoured edge
Slender base for easy filling in shallow tub
Easy grip handle
PBA FREE
Where oh where can you find this handy-dandy pail?
Now, because we are so in love, & because Nuby is such an amazing company, we have partnered up to do a giveaway! We will be giving away one free Nuby Tear Free Rinse Pail to one lucky reader! Just scroll on down to the end of this blog post to see how you can enter!
Thanks for stopping by, I hope you find this review helpful in your search for the perfect bathtub assistant! Please don't hesitate to ask a question, post a comment or follow me or Nuby on our social media accounts to hear about more great products!
Peace, Love & Tie Dye
Mama Sugs
Mama Sugs is a part of the Nûby Parent Blogger program. Mama Sugs did not receive any compensation for this post, although as a part of this program Mama Sugs may receive items to sample or review. Opinions expressed about Nûby products are my own.